Well......I didn't plan on taking a month off to update you on all the exciting changes happening around these parts, but life uh....finds a way.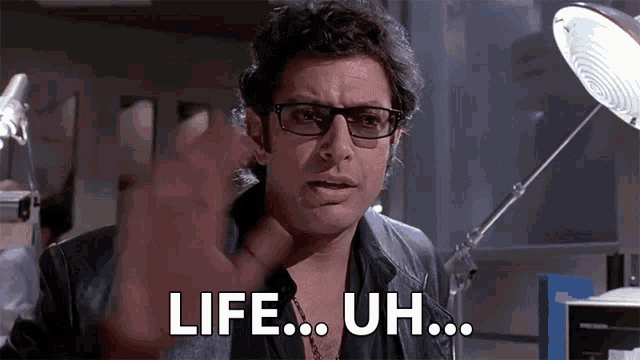 That doesn't make any sense. You know what else doesn't make any sense? Nothing really changed about the coronavirus except that cases decreased a lot in some areas because everyone was social distancing/teleworking/wearing masks during the very limited number of outings they were taking and then SOMEBODY was like "Well, I guess we're through the worst of it. Back to normal, folks!" ...and here we are again with the number of cases increasing skyrocketing...and when will my better half and I finally be able to venture out into the great unknown of glorious Dallas??? #firstworldproblems
Okay, I'll stop being a little storm cloud now. Onward to sunshine and
rainbows
.
Recent Reads
After rere
ading one of my favorite books f
or the
fourth
fifth
sixth time (I don't really know...more than a few, but less than the num
ber of times Nath'n has watched The Empire Strikes Back), I decided to give a book I started years ago another chance. Back in what I would guess was probably 2014, I decided to read The Happiness Project becau
se it seemed like an interesting topic, it was a New York Times Bestseller, and who couldn't stand a little more happiness in their life?
Win-win-win
, right?
I remember getting through the first few chapters back in '14, but I wasn't as avid of a reader as I am these days. So naturally after not picking it up very often and feeling like it was taking for-ev-er to get through (my fault, I thought), I decided it just wasn't for me. Since then I've wondered if maybe it was just me, so why not give the ole gal Gretchen another chance!?
I was wrong.
While I won't say that I hated the book, it was rather hard at times to get through. I've told myself in the past that if I'm just not feeling a book after a few chapters in, it's okay to put it down. Coincidentally, Gretchen says the same thing in this very book. There are plenty more fish in the sea books on the shelf. But then I'd think "Well, that's what I did last time!" So I'd make myself keep trudging, and boy was it a trudge! I found parts of the book interesting and enjoyable (at times), but all-in-all, it just wasn't my favorite. I feel like it could have been three-quarters, if not half as long as it was, and it was just really hard to relate to the author at times because she has such a different personality than me and values things differently than I do. I'd give it 2 stars.
Needless to say, it won't be my go-to stocking stuffer for family members this year. Except maybe the ones who wronged me. hahaha jk #nohateforgretchen
My subsequent and latest
read was Where the Crawdads Sing. To be honest, I wasn't particularly stoked about starting this because I'd been burned in the past by a New York Times Bestseller (cough, cough-see above), and I sometimes get a little weird about a book that I feel like everyone raves about when it's probably not typically something I'd read. I knew
this was set in the south in the mid-20th century, and I'm more of a modern fiction person. But I thought, you know let's just see. I can always put it down if I'm not digging it.
I was wrong.
It was sooooooo good! Count me in on the bandwagon of people who really liked (maybe even loved or lurved) this book! While it was more nature-descriptive than I may like at times, I will say the author, who is a zoologist, has a way with words. It also had a good amount of suspense throughout, which is not the norm for my reading choices. A few nights when I was going to bed, I was like "Lawd Jesus, please let me not have any nightmares about the Marsh Girl!" And then one night when I was brushing my teeth after a particularly suspenseful chapter, Nathan showed up behind me in the mirror after I had closed my eyes for a minute, and I was so startled! #scaredycat
Anyway, it kept me guessing throughout about who may have murdered the town superstar, but I won't give it away in case you read this and don't want the ending ruined. And by "you," I mean you, Nathan. Hah! (p.s. thanks for being amazing and reading my
sorry excuse of a blog) Back to the book - all in all, it was a great read, and I'd definitely recommend it!! 5 stars, Delia!
So yeah. That's about it on the reading front for now. I've just started this, and I'm already digging the small intro portion I read last night. Excited to report back here hopefully soon with my overall
thoughts.
Until then (which may be a month, but let's hope not), keep it funky and fresh and for goodness sakes SOCIAL DISTANCE AND WEAR YOUR DAMN MASK!!!!
**Who am I doing blog posts with back-to-back Jurassic Park gifs in my posts? Oh...Nathan's wife.